Administrator
Staff member
I assert that the divide between Left and Right in this country is greater than it's been in my lifetime, or at least in my awareness. I don't have any evidence for this, but the assertion doesn't seem refutable, and people I know understand exactly what I'm talking about.
I look at maps like this (county electoral map from 2016) and think it looks Urban vs Rural, but I'll post some follow-up threads looking at different reasons I believe have an influence on this divide. I'd love your thinking on these issue - this is something where my thinking is so muddled I can't speak eloquently on it, and I'm hoping thinking it through publicly will help me better understand what are just really deep intuitions at this point: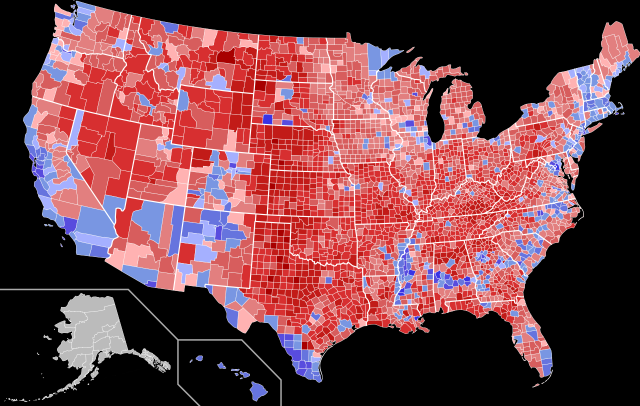 (That sure looks like Urban/University counties versus rural to me. Even New York shows this divide where Upstate NY looks as red as most of the rest of the country.)
So what's the difference in our points of view? Why is the divide to great in this country? Why are we now seeing violence at political rallies? Why do we have such cognitive dissonance from one or both sides (with regard to "fake news," whether Trump is a white nationalist, whether Kavanaugh is a rapist, etc)?
Ideas that come to the top of my head that I'll start new threads on:
Formal education. This will come across as biased but I'm going to go ahead and throw it out there: once upon a time if you couldn't pass calculus you didn't need to go to college, and calculus requires an IQ of 120 or so to be able to pass it. (That's why historically it's been a requirement for people who want to go to medical school, or take accounting as a major, or computer science, etc. If you can't pass calculus then you're probably not bright enough to handle the harder stuff.) Now we live in age where everyone needs to take on huge debt to go to college, and some of the less bright folks filter down into the grievance studies majors instead of STEM, and come out indoctrinated, apparently unable to examine facts or question the lies they've been fed in college. They know how to protest, though.
Self-sufficiency versus dependency. Folks in rural areas tend to solve their own problems -- what my wife calls "South Georgia Practical" -- whereas folks in urban areas tend to depend on government services. It's a correlation that I'm unsure of the cause of - folks who want to take care of themselves often move to rural areas, but if you're in one you may need to solve your own problems because there isn't a governmental support network to fall back on. So, people in each area see a different role for government - what's needed versus what's overreach.
Sex-based differences. This will offend some, but at the core we have an argument over freedom versus safety in a lot of these political conflicts. Freedom is inherently unsafe, and the safest place to be is wearing a straight jacket, in a padded room, fed bland foods, exposed to television that won't make you upset, forced to exercise in a limited way from time to time. That's the opposite of freedom, but you will live to a nice long age. Mix in biological differences between men and women (which I an not an expert on, but I believe is a contributing factor here) and you have different core assumptions about the fundamental role of government. The Declaration and Constitution say nothing about keeping people "safe," but every politician seems to think safety is their number one goal.
City life is different than rural life. If my neighbor stores gasoline unsafely out here in the country, that's on him unless it's a direct thread to my property. If you're storing gasoline unsafely (or at all) in a 20 story apartment complex that's a huge risk to everyone. Negligent discharge through the roof? Pay better attention and be glad for the rest of the four rules that saved you from worse. Negligent discharge with 10 floors of people above you? Maybe negligent homicide. Living in a dense urban area is different that living on 20 (or 2,000) acres, and I think folks in big cities think what makes sense for them must obviously make sense for everyone else. It's cultural illiteracy from the blue areas, basically. If the police can respond in 2 minutes your strategies are different than it the response time is 2 hours.
I'm sure there's more. Let me know what you think - if we can clearly identify the differences between camps, then maybe we can start to bridge the divide in a way that makes less pleasant conflict less likely.